Digital Asset Management (DAM) is a centralized solution to manage and distribute digital content and facilitate related e-commerce. DAM is widely considered to be the heart of marketing technology (MarTech).
The global market value for DAM was over USD$ 3 billion in 2019 and is forecast to double in the next five years. The ecosystem of DAM integrates creative, archival, and analytical tools through connectors1 from participating providers. Connectors also provide integrations with platforms such as Content Management System (CMS), Customer Relationship Management (CRM), and Product Information Management (PIM). 
The existing DAM ecosystem has a deficiency. There are no connectors or services which can provide comprehensive metadata, in particular rights metadata, for any and all digital content type(s). CLink Media, Inc. (CLink) now announces a solution.
Metadata is a foundational element for DAM and e-commerce: 
"Metadata is the lifeblood of e-commerce" (John Erickson, then of Yankee Book Peddler). Electronic trading depends to a far greater extent than traditional commerce on the way in which things are identified and the terms in which they are described – metadata. 

(Godfrey Rust and Mark Bide (The <indecs> metadata framework)
In established market sectors the value of standardized data and well-managed identifiers for increasing digital access and commerce is taken for granted. Metadata standards like ONIX (books), DDEX (music), and IPTC (images), and identifiers like ISBN, ISRC, DOI, and EIDR enable digital supply chains to flow like well-maintained freeways instead of potholed dirt tracks. They mean more access, more commerce, and lower transactional costs.
However, there are several large "potholes" in the DAM ecosystem:
metadata is usually "locked up" inside DAM systems limiting exposure and access;
there are no identifier/metadata standards in use across all digital content types; and
metadata about rights is often incomplete or entirely omitted.
Lack of rights data can lead to non-compliance and costly litigation, and more often simply to lost business opportunities. As publishing rights expert Mark Bide has said, "An asset without rights metadata is a liability".
To mitigate risks associated with usage rights, FADEL has created a Rights Cloud platform with connectors to several DAMs. Marketing software vendors Stackla and TINT both provide DAM connectors to facilitate rights clearance for user-generated content. These are valuable of course, but none of those solutions make assets (or asset rights metadata) from DAMs discoverable for external reuse.
Ed Klaris, CEO of KlarisIP called for innovations in a recent article of Bloomberg Law:
Rights which are stuck in a file box are, quite simply, revenue left in the vaults. That is too much of our past. No matter what side of the business you may represent – legacy, streaming, talent or traditional distribution – rights which are immediately available to a content strategist or sales team can only bring more opportunity and value. That is our future.

Ed Klaris (INSIGHT: Intellectual Property Rights in the Age of the Streaming Wars)
Team CLink couldn't agree more and introduces innovative connectors to support the provision of content and rights metadata which is:
on a proven and scalable Digital Object Architecture accessible to the public at the discretion of the creator/rights holder;
based on the data models of the  Linked Content Coalition, designed and tested to be fully interoperable with any other metadata schema, standard or proprietary; and 
a CMS interface with simultaneous sync to the DAM and to the CLink platform.
The following image illustrates the integration of the CLink platform in the DAM/MarTech ecosystem.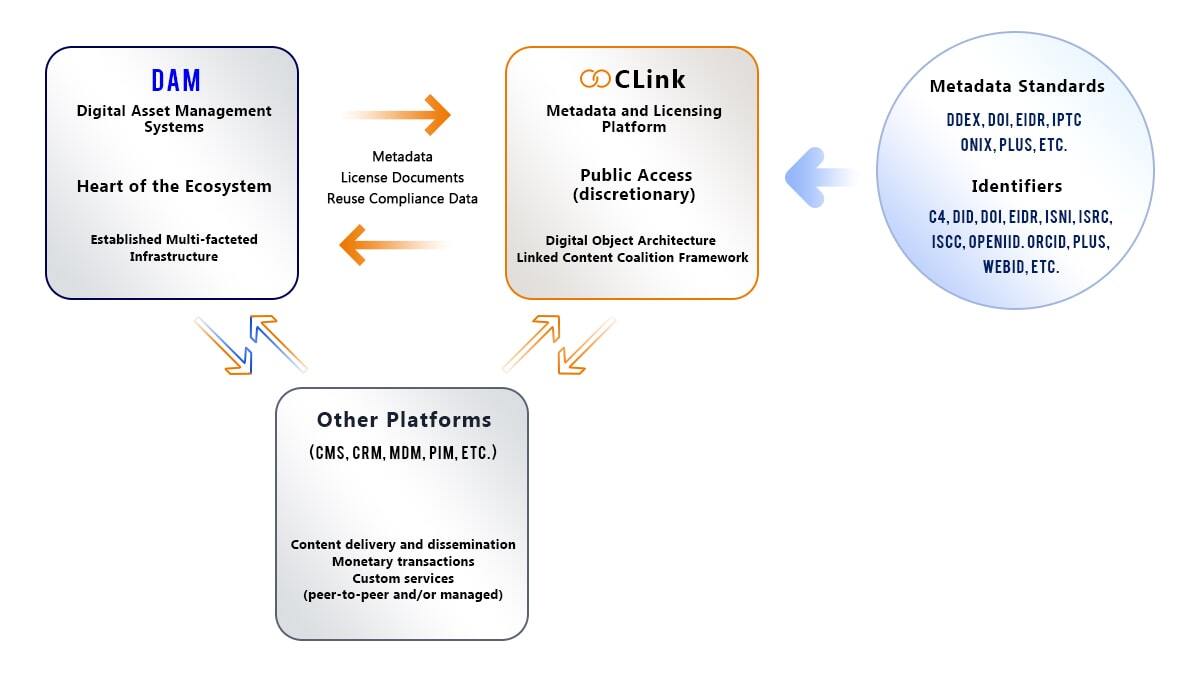 The CLink platform can be connected directly to the DAM or interface indirectly through another platform in the DAM ecosystem. Both scenarios have their merits.  
Connectors at the DAM can provide optional private metadata, identifiers and on-promise access to the CLink platform.  This may be the preferred setup for enterprises such as DAM providers or larger DAM client organizations.
Connectors to the other platforms of the ecosystem, CMS for example, can enhance the discoverability of the assets (e.g. by Google Images) and facilitate peer-to-peer transactions. Furthermore, this option does not require significant change in the DAM, it can merely add a link to the CLink identifier associated with the asset.
In the first release, the  CLink Platform is integrated to the Cloudinary DAM ecosystem by the wpCLink WordPress plugin. For functional demonstration the image above is delivered by Cloudinary to this post which is created by WordPress. The creation and rights metadata are mapped to IPTC and PLUS fields by the CLink platform and embedded in the image by wpCLink.
This connector will be available first quarter of next year in the Premium Edition of the wpCLink plugin. CLink's offerings will be expanded to cover other DAM ecosystems in the future.
Interested readers can find out more by contacting us at contact@clink.media.
Your comments, feedback, and critique are welcome.
_____
1 The term "connector" is often blurred with the terms such as "add-on," "extension," and "integration."  See for example https://www.nuxeo.com/integrations/, where the URL has a slug referencing "integrations", the title refers to "connectors," and the first paragraph describes "add-ons".  As used in this article, the term "connector" is a functional label for components to "connect" participants of the DAM and MarTech ecosystems. 
In technical terms, CLink views connectors as wrappers around an API to facilitate communication between tools, platforms, the DAM, and other participants of the MarTech ecosystem. Depending on the entry point of the integration and the participant's naming conventions for its component it can be labeled a plugin (WordPress), a module (Drupal) a connector (AEM), an add-on (Cloudinary), or whatever name the participant has established for its own product.